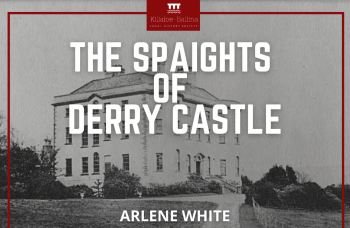 The Spaight's of Derrycastle
Wednesday 6th July - 7:30 pm
St Flannan's Cathedral, Killaloe
Free
Arlene gave a similar talk to the Arra Society in January of last year, this year we are getting to attend in person, and in St. Flannan's Cathedral.
Since January 2021 Arlene has continued to research the Spaight's and Derry Castle. She has made contact with a descendant of the family, and as you can see from the poster she has obtained a much longed for photo of the original house. Arlene has also contributed to an RTÉ radio documentary on Francis Spaight, not yet broadcast but we will let you know when it is aired.
We are really looking forward to her talk in the historic setting of St. Flannan's Cathedral. Definitely one for the diary!
This event will be part of the programme of events for Féile Brian Ború.